RED HOUSE THEATER AND COSTUME STREET
X
imending is home to several historical sites and one of them is the
Red House Theater
(also called the Red Theater or Red Play House). It's a Western-style red brick octagonal structure built in 1908, Taiwan's first public market and the most well preserved class III historical site.
Since we stayed in Ximending area, we made sure to drop by here to check-out the creative markets and various arts, and get a sense of what the entire hustle and bustle was all about. It was our second visit in the last 3 years.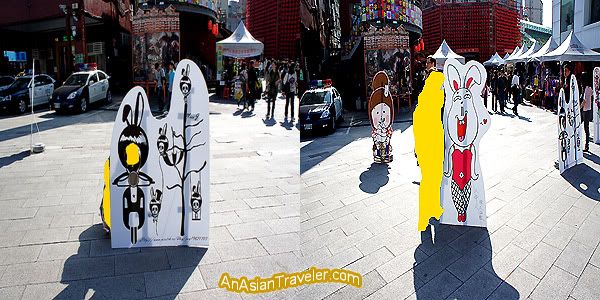 Just to give you an idea, the ground floor currently houses a small tea shop and a display on the history of the structure. There are several stores inside in which independent artists sell their art.
Main entrance of Red House Theater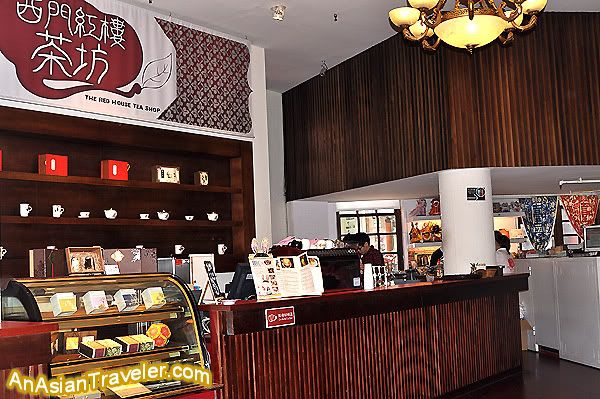 The Red House Tea Shop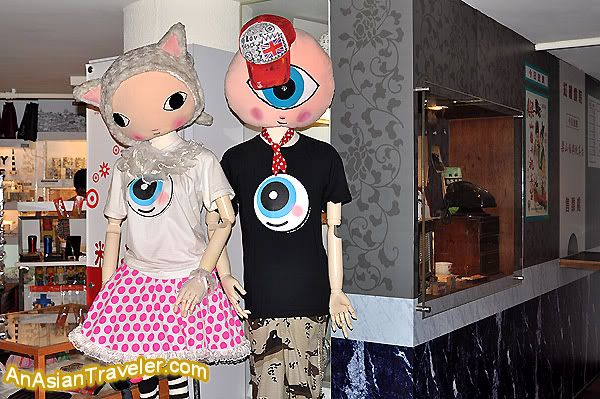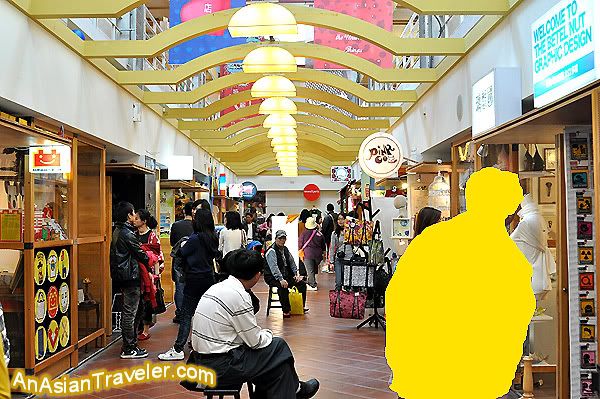 Shops inside the Red House Theater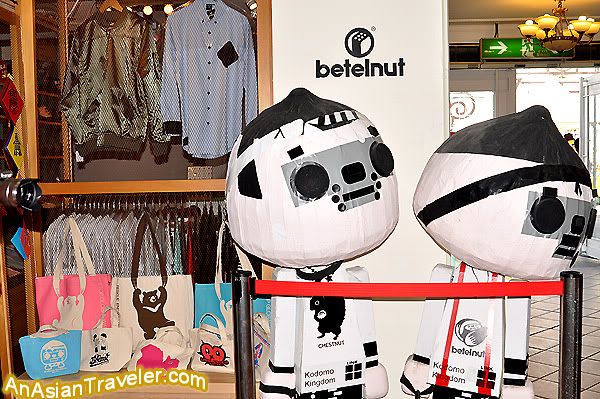 The Betel Nut Graphic Design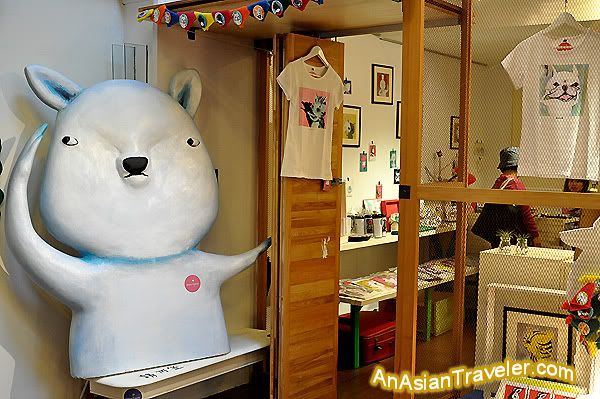 emma A Party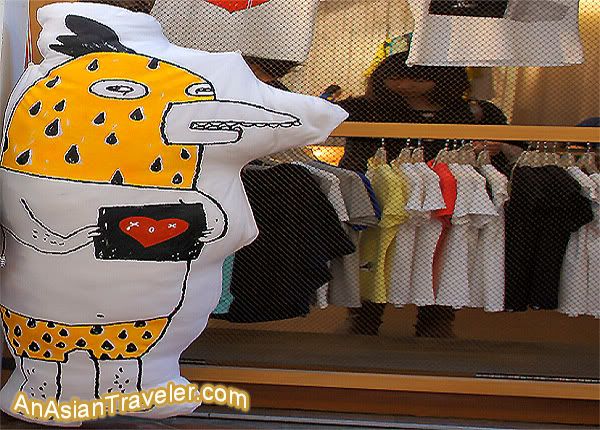 Just outside the entrance of the Red House Theater are numerous tent souvenir shops selling all sorts of trinkets, jewelries, t-shirts, arts and crafts. I noticed some retailers were dedicated to environmentally friendly products as well.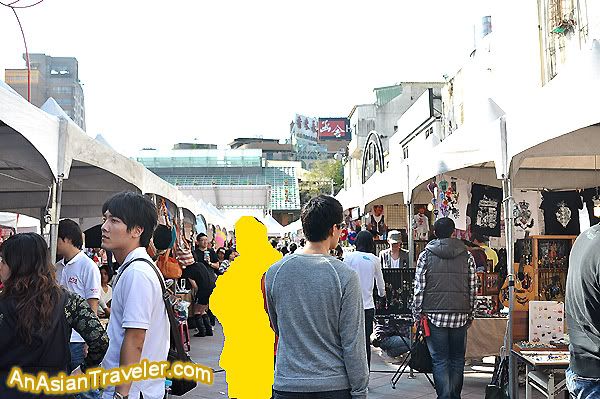 Looking for nothing in particular, my eyes wandered over to these colorful transparent soaps. What's unique about this soap is that each product has a tiny toy inside. Yes, a toy! Oh, how cute is that! :)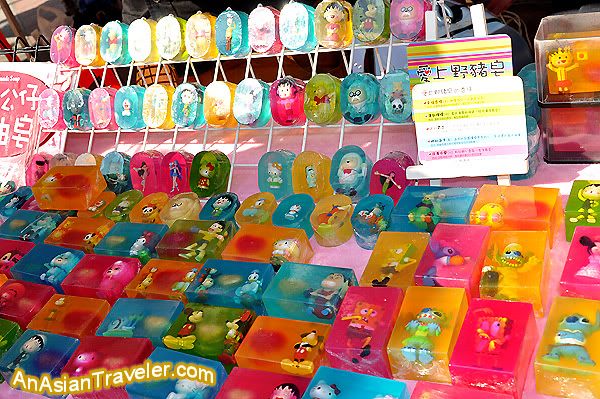 They have a huge selection of the various toy characters and they also come in different fragrances. As always, I was like a kid in a candy store. For only NT$250 (big size) and NT$150 (small), I finally succumbed to temptation. I chose the Hello Kitty with heart and a little girl (do you guys know who this is?). They have cute wrappers, too.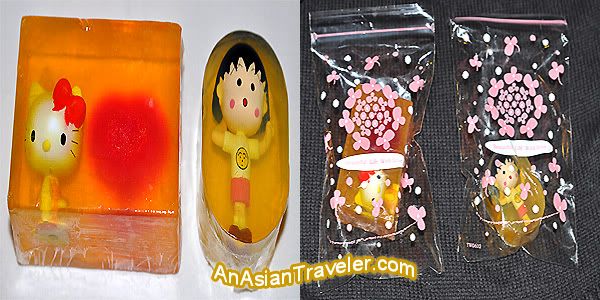 If you are hunting for a t-shirt, pair of earrings, knick-knacks or just any out of the ordinary gifts to bring home you might want to check out the Ximen Red House Theater. If you're not into shopping, events such as exhibition, stage performances and cultural activities are also offered here. Just remember to check the schedule.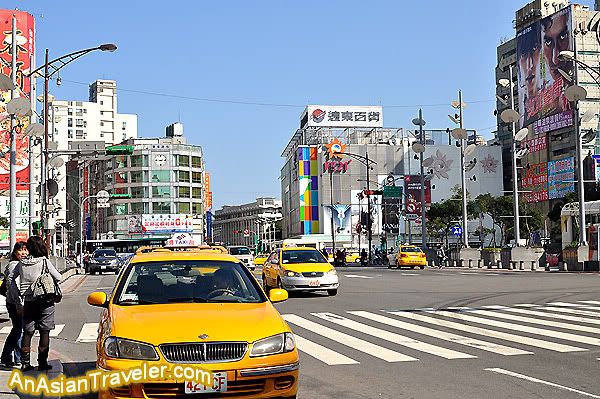 the surrounding area of Red House Theater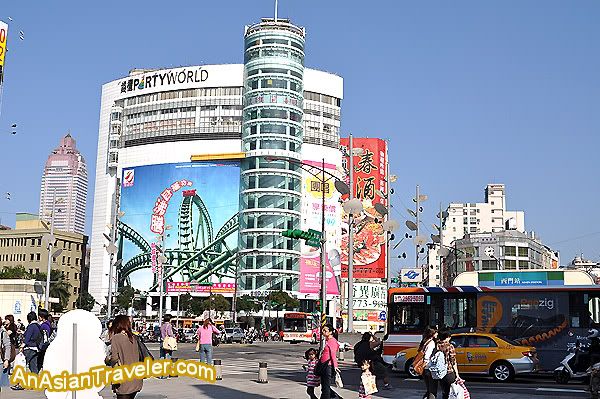 Subway is the best option if you're not staying in Ximending. The Red House Theater just sits directly outside the southwest exit of MRT Ximen station.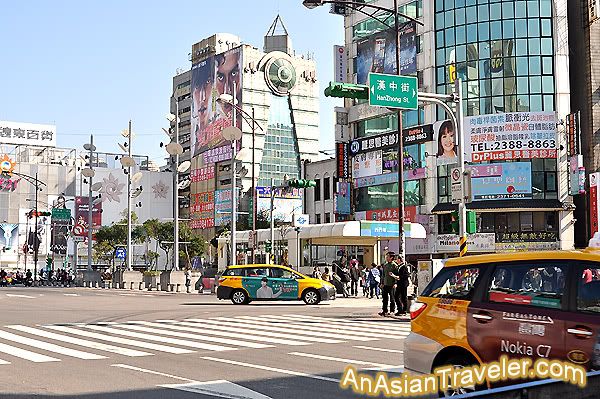 the one with the white roof is the Ximen station
Check out some of our videos. Hope you enjoy it! :)
* * *
Just a few block away from the Red House Theater is the
Costume Street
. It is situated on quiet streets in the vicinity of Changsha and Hanzhoung St. There is a cluster of costume rental shops that you can find here.

c
ostumes in variety of themes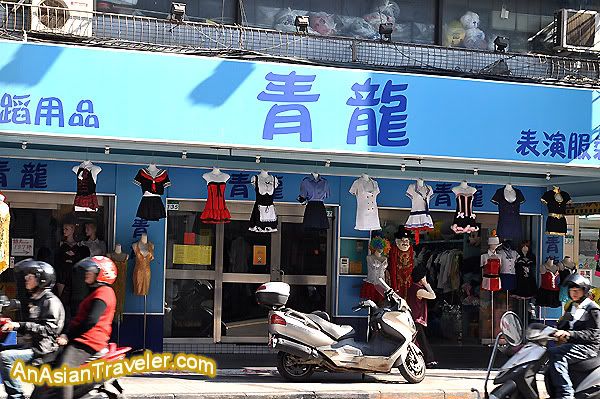 costumes displayed for sale outside a shop in Hanzhoung street
Taipei being known as little Japan, many youngsters love to engage in Cosplay. I suppose these shops are ideal for finding interesting cosplay costumes. We didn't walk all the way, just a quick look at a few shop doors and then headed back to the
hotel
. Anyway, I had good workout that day - lots of walking! :)
🌸 If you like this post, please click the links below to SHARE! Thanks.