TAIPEI FASHION AND SHINJUKU PLAZA
B
eing slender is the hottest trend for most women in Taipei. I wonder how they remain so slim despite all the plethora of delicious food everywhere. Anyways, I will not attempt to talk about their own diet secrets here.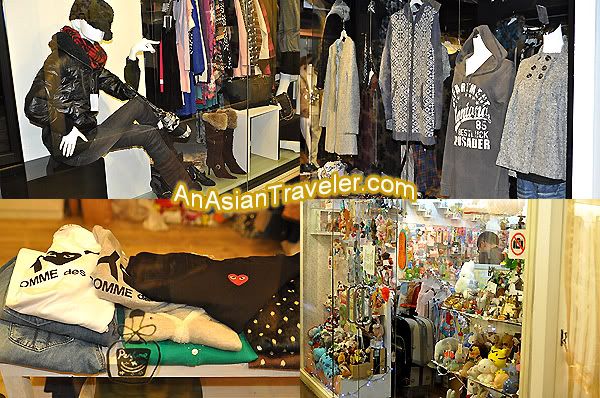 From my observation (particularly in Ximending area), Taiwanese women are also fashion-conscious. Their taste of style is somewhat similar to Korean and Japanese fashion: cute and sexy. Often you'll see them wearing miniskirts or shorty shorts with boots or high-heeled shoes even in cold weather. They also seem to prefer tights to match their tiny skirts and shorts, which are mostly black. Others are trotting out their high-end branded bags such as Louis Vuitton and Gucci just like an ordinary everyday bag. I was often tempted to take my dlsr camera out and stalk them like a nuisance paparazza, But I DIDN'T. I just don't want to take their photos without their permission as I don't want also my photo taken at all. Yeah, I know I know, I'm boring.
We happened to visit the
Shinjuku Plaza
in Ximending which is filled with small outlets run by independent designers and oodles of resellers, too. But half of the stores were still closed when we got there. Business hours are usually open at 11:00am.
We perused for an hour and checked out the variety of merchandise sold. Plenty of chic and stylish clothes to keep you warm in cold weather.
Awesome stuff like the spike studded black high top sneakers.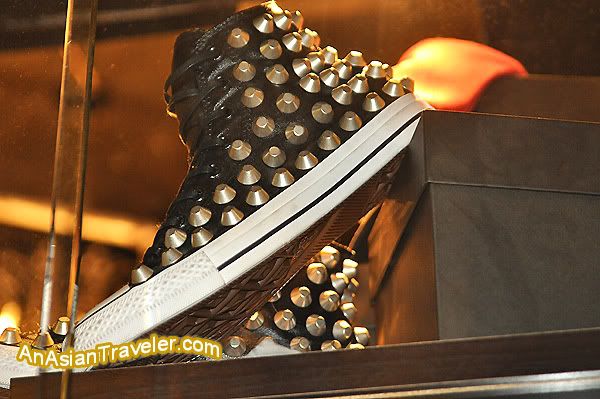 Unique and modern boot styles that you can choose.
A selection of glittering and gleaming accessories.
For couples: If someone takes interest in you, it's best to wear this super cute tee to get rid of an unwanted admirer. ;)
Spotted some nail salons.
Expensive designer bags at a designer resell shop.
If you wish getting a tattoo, there's also a shop inside.
For tattoo enthusiast, you might want to visit the Tattoo Street located between Xining S.Road and Kinming St. I haven't been there so I can't say much. It is said that this street boasts a myriad of collection of alternative pop culture such as tattoo, ear, nose and tongue piercing. If you're interested, do check it out.
I saw something I intended to buy. I thought it was Comme des Garcons wedge flatform shoes but it was another stylish Japanese brand. But I just let myself drool 'coz it was around Php 11,000, which I already consider way too expensive for a pair of shoes. I really loved it and how I wish they were less costly. Okay, so I left the mall without buying anything. *
sob
* But HB ended up acquiring his favorite Y-3 backpack. At last, he finally found it in Shinjuku Plaza after searching for a long time on the web.
Close to
Shinjuku Plaza Shopping Mall
is a 4-story lingerie/undergarment shop for women called
Easy Shop
.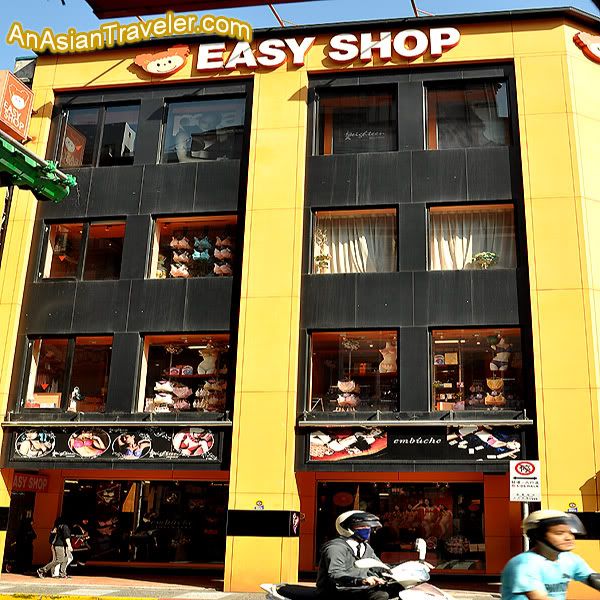 Tourists and travelers can enjoy shopping in the bustling Ximending with a wide array of fashion clothing and cute accessories in various styles. It has always been considered the most fashionable and popular shopping place in Taipei, Taiwan.
🌸 If you like this post, please click the links below to SHARE! Thanks.