AMAZING RACE TIME!
G
oing back home was like an Amazing Race for us. We arrived at
Soekarno-Hatta International Airport
(Jakarta)
around 10:00 in the evening Saturday. We thought we were early for our flight only to find out we made a stupid mistake. We failed to show up on our scheduled departure date. We were supposed to leave at 12:35 am on Saturday instead of Sunday morning. This is really a bit confusing if you don't read carefully the time.
Hb was calm but a little tense since it was important for him to be back to
Manila
as early as possible. The problem was that no flights found departing on that day and the following day. So, we decided to purchase another tickets (around
US$ 125.00 / Php 6,000.00 eac
h) from
Garuda Indonesian Airways
bound to
Singapore
as there are many options and extra flights a day.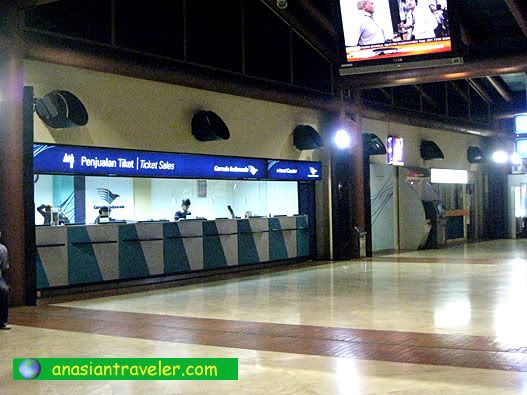 We got the earliest morning flight (6:30 am) to
Singapore
. For comfort and convenience, we wanted to stay in
the only transit hotel
at Soekarno-Hatta International airport. However, the price is quite expensive. The
standard room cost around US$ 65.00
(subject to 21% government tax and service charge) for 3 to 6 hours use only. Hence, we looked for another alternative.
Someone suggested that we could stay at a hotel nearby, which is just 5-10 minutes away from the airport. Hb and I hauled our luggage and hopped on a taxi. As we headed down the street, our driver suddenly slows down and stopped at a roadside and talked to some strangers standing nearby. That was the only time I noticed that it wasn't a
Blue Bird taxi
. We entered into a small town that seems very much off the beaten track. I was troubled, unsure of what might happen next, but remained tight-lipped praying that we would be okay. Good thing, we arrived safe at the hotel.
Frankly, I wasn't expecting much of the hotel (sorry forgot the name), but it was big and the lobby looks grand. On the downside, they were charging higher rates than we expected. Since we only needed the room for three hours, we thought that if we tried to negotiate a lower rate, it would be okay to them, rather than letting the room go empty. Unfortunately, hb had
unsuccessful bargaining attempt
.
the hotel

A young bellhop hearing our story told us that there's a budget inn where we could stay. Soon, we found ourselves on the taxi again and moved to our next destination. When we reached the place, we peered anxiously through the taxi window and surprised to see a rather dark dingy alley.
Scary
. Since we always exercise caution, we both decided to just go back at the airport terminal rather than ended up getting robbed or fret about being kidnapped.
At the airport terminal, though there were already some dozing passengers, there were still plenty of seats. But our troubles did not end there. I thought we could sleep comfortably on the long wooden benches but I noticed there was so much
TRASH
piled up into the hole of the seat. And as I closely examined, I could see those little nocturnal
PESTS
lurking in the darkness and crawling out between the holes that seemed ready to find a juicy spot and suck all our blood.
EEWWW!
That scene really made my flesh creep. I couldn't help but wonder why those people could sleep there. Hmm, probably they didn't notice it or they literally just didn't care at all.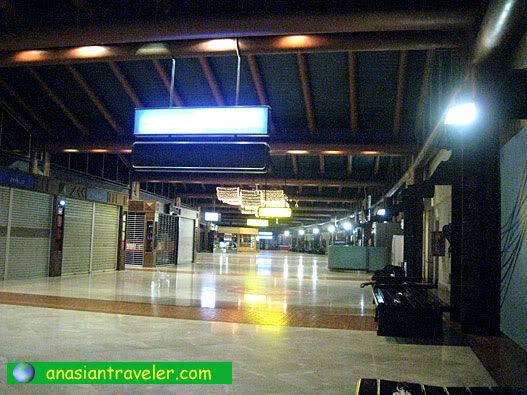 We just sat on the bench and both
STRUGGLED
to stay awake as the entire station of Soekarno-Hatta goes absolutely
STILL
in the middle of the night until the wee hours of the morning. We were completely unprepared to cope with that kind of situation but we had to endure it. I could tell hb was also very concerned about me, reminding me every now and then to take a nap while he would be watching our luggage. Believe me, we did try all kinds of strategies to keep our minds
SANE
and our droopy eyelids
OPEN
.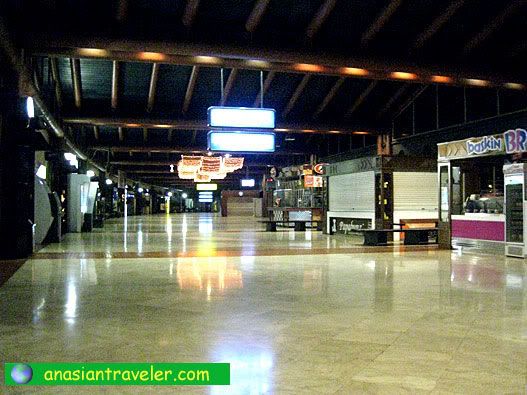 Soekarno-Hatta International Airport has a good architectural structure. The lobby before the check-in counter terminal is spacious and filled with dozens of shops and eateries, and in my observation the seating is sufficient for the volume of passengers it handles. It's not really grand but decent enough and safe to sleep since it's inside the air-conditioned building, plus no one bothered us. Shops are scatted throughout the area; however, they do close at nighttime but were lucky we managed to grab a snack at KFC on the lower level. Obviously, the only thing we did not appreciate was the seat. If not for the trash and pesky insects, we would have probably fallen into a perfect deep slumber.
Well, I do hope next time they'll clean thoroughly the wooden benches holes, which is the most conducive place for these insects to breed and thrive.
The next morning, we were the first one to check in to catch our flight to
Singapore
. There is another security check to enter the specific gate area, where an officer
pounced on our bags and inspected our
newly purchased sneakers
(we only hand-carry four pairs). Good thing, he had a hard time speaking to us in English, so he hesitantly let us go.
Upon disembarkation at Singapore Changi International Airport (sorry no photos as I was already tired, lethargic and sleepy), we found first the information counter and approached the lady stationed there and enquired where we could book a flight. Fortunately, we were able to purchase tickets from
JETSTAR Airways
(fare was around
US$ 146.00 / Php 7,000 each
) to Manila on the same day. I thought we still had ample amount of time to relax for a bit but our next flight was set for a few minutes. Having no time to spare, I just took a deep sigh,
hurriedly dragged
our luggage, and
raced
to the second level of the building. If my memory serves me correctly, we were the last passenger to check-in and reached at the boarding area just in the nick of time.
We've been traveling for so many years now and I can't believe we did this. Clearly, that was a
costly mistake and an amazing race
like travel. It taught us a lesson. But we had an incredible time anyway and I'm just delighted that we were finally home.
🌸 If you like this post, please click the links below to SHARE! Thanks.