PART 2: SOAKING UP THE LOCAL CHARM
Wrapping up the day, we headed to Kaonan Kamayan sa Karayman. It's a restaurant tucked away in residential neighborhoods a bit far off the city center. This was the third time HB and I been there. Dinner started with two large plates of pancit instead of the soup. We ate them anyway as we got tired of waiting. We are not total health nuts so Crispy Pata is always welcome in our tummies. We also stuffed our faces with other delicious Filipino food. And we most likely ate more than we should have. Burp!!! :)
I couldn't help but asked HB to snap a photo of these two hawks spotted at the restaurant that I thought would be awesome to share.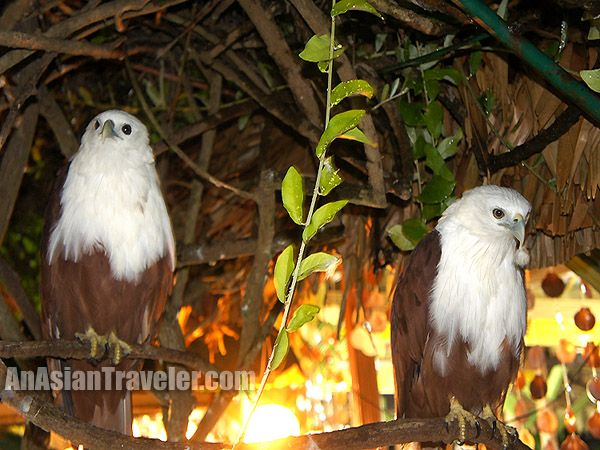 On a different note, I jazzed up my finger nails a little bit. As we waited for our main dishes, I thought my elder sister Ate R was taking a photo of me on her iPhone so I covered my face. But nah, she was interested in my Hello Kitty nail art polish (which I did on my own by the way). She loves it. Thank you! :) As you can see in this picture, I like to keep my jewelries very minimal and usually just wear a ring and a simple watch when I'm out of town. They can already add a touch of fashion to an otherwise most humdrum outfit.
Stack Rings Maison Martin Margiela / Watch Michael Kors
And speaking of Hello Kitty, if you've been following my blog for a long time, you may have already noticed my fondness for this fictional character. Some of my Kitty posts can be found
here
,
here
,
here
and
here
.
I want to share with you the last part of my vacation, We did a little sprucing up the interior walls of
S&R Bed and Breakfast
. The process from taking the decals and applying it on the wall were a little bit tricky and had pretty much taken up our time. Our inaccuracy and oversight often leads to a hearty, boisterous burst of laughter. :)) And to some degree, we all agreed it wasn't the best choice. On the other hand, we were able to enhance the room of
Deluxe 1 (photo below)
.
So, if you happen to book this room, please remember I'm the one who erected the Eiffel Tower hehe.. with the help of course from my two dynamic and ambitious architectural assistants, Ate R and my niece A. LOL
But seriously, did the charming room draw you in? If you want to give yourself a break and want a quiet atmosphere, then look no further check-in to this awesome B&B. There are only 5 lovely rooms so make your reservation in advance.
(visit the website here)
Warm evenings were mostly spent sitting outside on the patio of
S&R Bed and Breakfast
just lounging, hanging out and nibbling on snacks until midnight. Ah, sometimes you just have to sit back, relax and enjoy the simple pleasures of life. I could really get used to living on like this. :)
Now, that we are back home, I'm dreaming of the golden sky, the calming sound and breezy air sitting in a nice comfy chair, sharing stories and laughter and spending time with the family. These little things give me joy. I miss the provincial charm but I know we'll be returning here often.
I hope you are all having a wonderful week!
♥
Note: Hopefully in the future Calbayog City will have many more restaurants and tourist attractions. Does anyone have any recommendations for new places to see or nice restaurants to try? Please do share.
Related Post:
PART 1: SOAKING UP THE LOCAL CHARM
🌸 If you like this post, please click the links below to SHARE! Thanks.