PART 2: UNIVERSAL STUDIOS SINGAPORE
W
e made our way to
Water World
situated in the Lost World zone to watch live death-defying stunts and special effects based on the movie Water World starred by Kevin Costner. It was good and entertaining. Oh, you better get the front row seats lower level if you want some excitement (
but don't get mad at me
), haha! This show reminds me of the
Safari Spy War at Safari World
that we watched in Minburi, Thailand.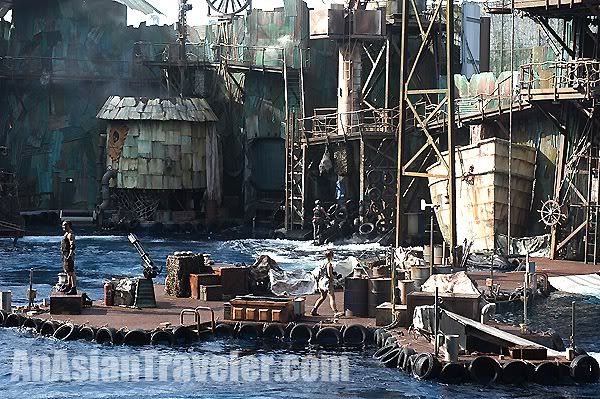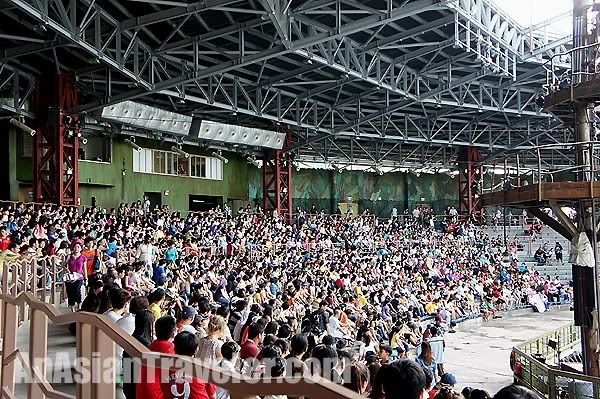 After the awesome Lights! Camera Action! Hosted by Steven Spielberg show attraction (New York zone), we went to
The Brown Derby Store
located in the Hollywood zone. At the entrance of the store are displays of hats that you could put on and take pictures for free. Of course, we couldn't let an opportunity go to waste. We had fun and it kind of made us giggle when we tried these silly and unique hats. :)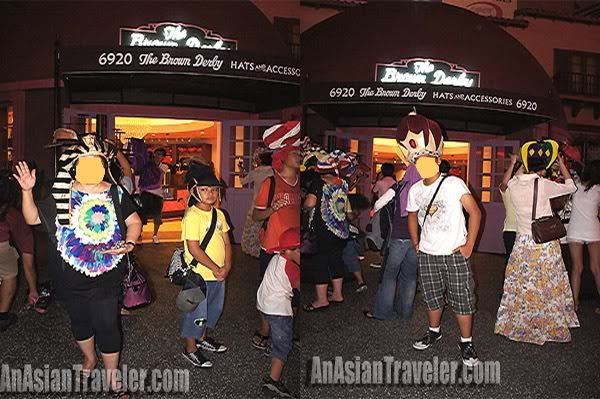 As for the rides, the star attraction of Ancient Egypt is the
Revenge of the Mummy
. It's a psychological roller coaster ride that winds through a pitch black building. HB and nephew enjoyed the ride so much, they went on it twice. Revenge of the Mummy is definitely one of the best rides in Universal Studios Singapore. Just remember though that this is a crazy and heart pumping ride.
The lamest ride we've ever taken was the
Treasure Hunters
where we rode the vintage motor car and it took us on a slow tour of a boring abandoned excavation site. We truly regret riding this. Don't waste your time here unless you have a little kiddo.
The four of them also took the Accelerator and Canopy Flyer ride. Again, I decided not to join with them. In case you're wondering, I wanted to take the rides but fear had been mulling around in my brain as I just recovered from a bad case of dizziness a few days before our Singapore trip, and getting sick on vacation is definitely not you want to happen. I'd rather be safe than sorry.
accelerator tea cup ride
They thought the canopy flyer was an easy ride but it moves quite fast with twits and turns which surprised them all. My elder sister and her husband ended up holding hands the entire ride, haha.
Meanwhile, I did have a nice break while waiting for them. I was feeling thirsty so I looked for something to drink. There are many cute mobile food carts around which sell beverages and snacks. Fortunately, this studio snacks green mobile cart (photo below) was just a few steps away from me.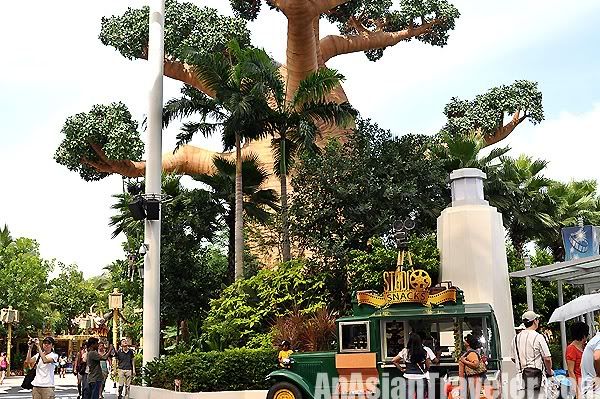 popcorn mobile cart

Instead of water I changed my mind when I saw some popsicles. And who would think a tiny popsicle would actually bring a little joy to someone who couldn't join the rides. :) I found a cozy little spot and sat down on concrete bench and enjoyed people watching. A couple of minutes later I decided to pop into every nice shop in an attempt to find some souvenirs, but I didn't succeed. Don't get me wrong, there are lots of cute collectibles but I was looking for something I really really like and useful.
Also, we chanced upon the Daddy-O's singing the classic songs of the surf at Mel's Drive-In Hollywood zone. Great performers! My body wanted to dance but somehow could not muster up enough courage to start. haha
We wanted to watch the fireworks display but we were tired already and so we left the park. This time seeking a restaurant with decent food, we went directly to The Food Republic on level 3 of VivoCity, a famous food court dining in Singapore. The place was busy as usual. Most of our conversation pretty much ended talking about thrift shopping and perfume.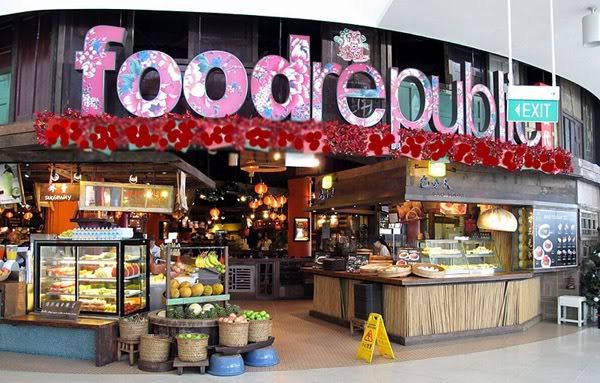 On one last note (are you still with me? haha) the super real BUMMER for that day was the waiting for the taxi for two excruciatingly long hours at VivoCity. We all know that people form a line at the taxi stand and cabs come by and pick people up, right? Well, that wasn't the scenario. The people NOT QUEUING UP were able to get a cab pretty easy. It was like miraculously provided for them. While we looked like poor refugees waiting for taxis which were as scarce as hen's teeth. Ah, you could see the disappointment on our faces.
Still figuring out exactly what was going on. Soon I started noticing empty taxis with their "ON CALL" lights on.
I realized those cabs were all freaking booked by phone
. Anyway, we still waited hoping some vacant taxis would magically appear. But an hour later and still not a single taxi came to our rescue. We stand there in a quandary so I figured I'd ask HB if he could use his cellphone. I brought mine too but it was for roaming text messaging only. He was a bit hesitant at first because he would be paying for the international roaming charges and another fee for booking a taxi. However, the thought of waiting God knows how many more hours plus we were already completely exhausted, HB decided to give it a try. Thank goodness, we were able to get two cabs within 15 minutes. We got on board and man I was in the seventh heaven of elation. But it really hurts me to see a bunch of people still waiting patiently in line. :( We got back to the hotel around midnight. HB was our savior!
I hope the VivoCity management will do something about this.
All in all, the entire day was so much fun though very very exhausting!
Related Post:
Part 1 - Universal Studios Singapore
live well
♥
laugh often
♥
love much, June



🌸 If you like this post, please click the links below to SHARE! Thanks.