SO IT'S A SCALLION PANCAKE!
T
his food peddler was magically summoning me while sauntering down again the Ximending area.

I got so excited and requested HB to make a videotape recording first.
As you noticed HB had to stop videotaping abruptly. The vendor was telling someone that he must pay for taking pictures. Then he looked at us without saying a single word, but it seemed he also tries to imply, "Hey, you too". What a grouchy man! haha
Nevertheless, it was still awesome just being there and seeing the patrons come and go. Looking at the pan-fried pancakes made me started to salivate. And how can I ignore the desire of satisfying a voracious appetite. So, I finally gave in.
We were unsure what the food was and inquired about it. But the vendor just gave us a blank look, shook his head slightly as if he didn't know the name (c'mon, really?), and carried on with what he was doing. Maybe he thought were spies trying to steal his secret precious recipe and cooking technique. haha I would have understood him if he was the only one making this. But I just found out this is one of the most common and popular snacks sold by many street peddlers in Taipei. So, what's the big deal about it? Well, you be the judge.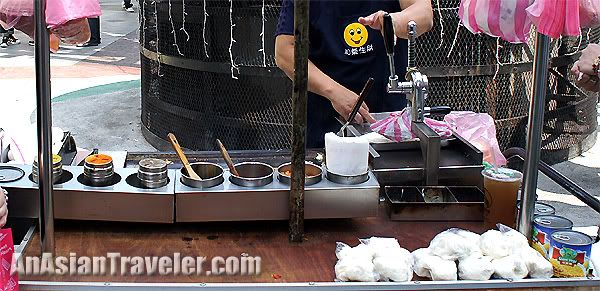 Anyhoo, I was handed a small white paper bag with a steaming hot
scallion pancake
with egg in it. (I happened to know the name of the cake after a quick scour on Google. )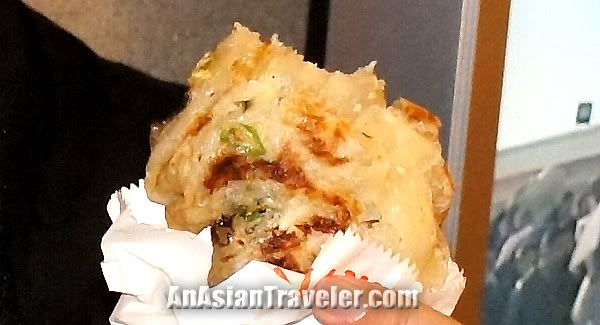 It's also known as spring onion pancake or green onion pancake. It reminds me of "Salukara", a delicacy made of rice which is commonly found in Eastern Samar, Philippines. They have that similar shape, softness, lightness and fluffiness. But the taste is entirely different. Thankfully, it was very satisfying and delicious. If you're in Taipei, don't miss to try this. ;)
🌸 If you like this post, please click the links below to SHARE! Thanks.