RAMEN HOUSE
X

imending
is dotted with small eateries with unassuming exterior mostly located on the second floor. You can easily fail to notice from the street if you're not looking for it. Most have small doors with flight of stairs leading up to the second level.
We came across this restaurant (sorry I don't recall the name) that offers a variety of tasty noodles and bento boxes for lunch and dinner. We took advantage of their awesome dishes that cost around NT$110.00 each.
HB's order arrived first. I could barely constrain myself from drooling over his noodles. So I eagerly slurped up a spoonful of the soup. OH EM GEE! It was frigging SPICY HOT! Seemed they put some wasabi on the ramen noodle soup. It almost burned my tongue and throat. And I felt the strange sensation as if little ring-shaped of smoke came out of my ears. Definitely fiery! I immediately grabbed my bottled water and quickly gulped it down.
HB has a high tolerance for hot and spicy foods, but I noticed he kept sweating profusely and got a runny nose while enjoying his food. haha
I ordered a bento box with chicken. The chicken is worth mentioning because surprisingly it was crunchy and flavorsome. I liked the veggies and side dishes, too.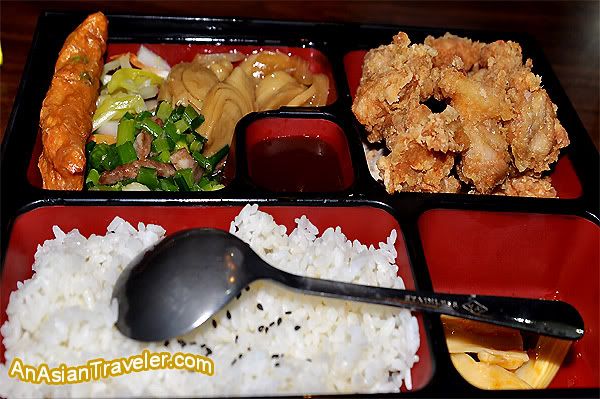 As we sat there relishing our food the restaurant started filling up pretty quickly with locals. I also happened to notice several napkin dispensers were strategically attached to the wall instead of being placed on tabletops. The decor wasn't remarkably beautiful but the food was really great.
After we stuffed ourselves, we then made our way wandering around the streets of
Ximending
and we spotted this interesting shop selling doll faces. It's a cute DIY plush toys where you can put your own picture on the toys face. Since I have soft spot for cute things and like a captivated child, I asked HB to take some photos of the shop.
I'll leave you with some pictures what we had for dinner that day. These became our instant favorites. A set meal costs NT$ 90.00 each.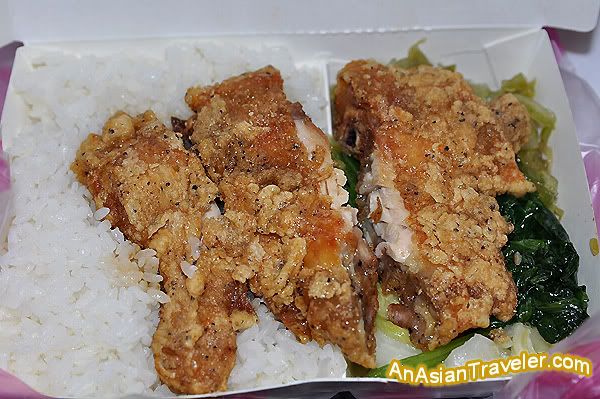 🌸 If you like this post, please click the links below to SHARE! Thanks.