BOOK LOOTING ;)
H

B is a book lover and voraciously read anything. I can't tell you the exact number we have in our house as there are heaps of book on various subjects. We have floor to ceiling bookshelves that are
completely bursting at the seams. And it already occupies one whole room in the house
. Aside from that, there are also stacks of books piled up on the floor and some are stuffed in every corner of our house. There's really no place to neatly organize them as we have a small place. Our house looks like a warehouse already, to say the least. :(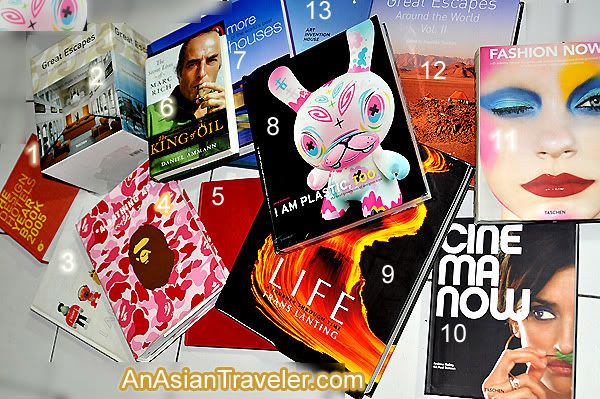 Anyhow, I just want to share with you peeps some of our recently acquired books. ;)
Most of these are hard bound books, large and heavy.
1. The Design Hotels Year Book 2005
2. Great Escapes Box - The complete set of all 5 Great Escapes titles: Africa, Asia, Europe, North America and South America
3. I Am Plastic: The Designer Toy Explosion
4. A Bathing Ape
5. Another 100 of the World's Best Houses
6. The King of Oil: The Secret Lives of Marc Rich
7. 100 More of the World's Best Houses
8. I Am Plastic, Too
9. Life: A Journey Through Time by Frans Lanting
10. Cinema Now
11. Fashion Now 2
12. Great Escapes Around the World Vol. II
13. Art Invention House
Thanks for visiting and have a great weekend!
.
🌸 If you like this post, please click the links below to SHARE! Thanks.