SOMETHING RED
T
o really highlight the luckiness of the day, I decided to get all dolled up and infused something RED into my outfit. The Chinese believe red is a lucky color and represents positive energy. So, I tried out the red top, it looks cute except the belly bulge (eew!) but there was no turning back since it was the only red shirt I brought.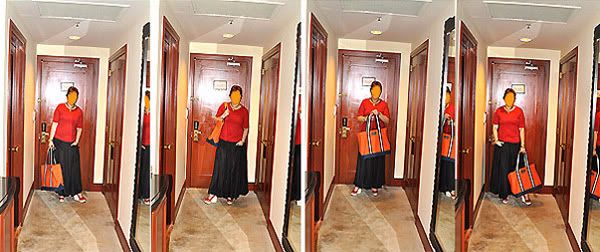 Bench top / Y-3 Yohji Yamamoto skirt / Polo Ralph Lauren Tote bag / Michael Michael Kors shoes

I tried to
wear my
4 ½
" red
wedge shoes that would complement with my red top perfectly. Ultra high heels (4" and above) are gorgeous, sexy and make you look taller & leaner but wearing them isn't my thing. They're not really designed for comfort, they kill my feet. I don't want to suffer just to look fashionable. But for those women out there who can comfortably wear sky heels, I want you to know I'm jealous. :)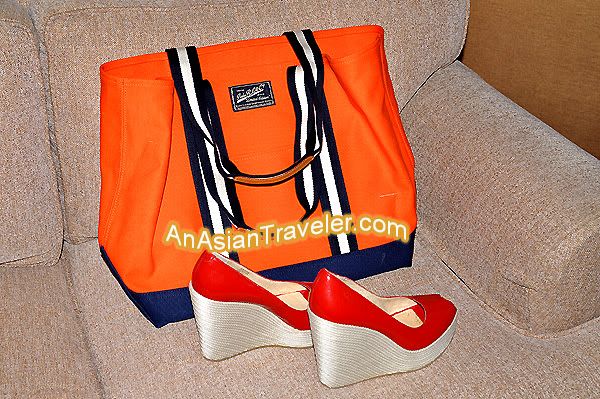 A lot of fashionistas are sporting the maxi skirt, so I decided to try this trend with my
Y-3 Yohji Yamamoto skirt
that has been sitting silently in my closet for a year. This retails for US$520.00. But HB bought it for me at ridiculously discounted price. Love the soft texture very comfortable. However, wearing this full, layered and voluminous skirt makes me look bigger than I already am. I wish I had my early 2o's slim body and 23" waist back again! Haaay...
I also tried to incorporate the orange
Polo Ralph Lauren Tote
into my whole look to make it more cheerful. This tote bag is really for men, but I say it could pass as unisex. It looks good and offers a great storage especially for traveling and shopping.
Here's a model wearing the Y-3 Yohji Yamamoto skirt. It looks shorter on her. She's probably 5'9 height. I'm a few inches shorter.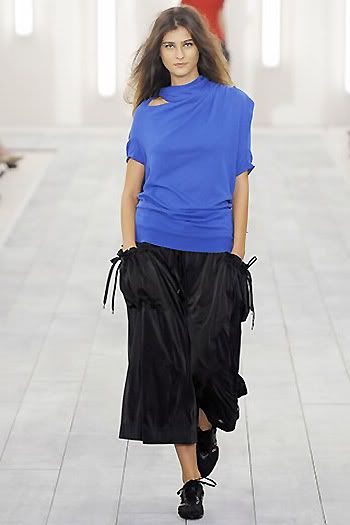 I did not really wear this Chinesey-something red- outfit theme. It was just intended for photo shoot. I know, they're not all that picture worthy. But hey, please bear with me. I'm a frustrated model. bwahahaha....
What I really wore that day is nothing but simple and casual attire with a splash of Red of course. I added my Marc by Marc Jacobs bag with popping colors. Stripes look good on me but they make me look bigger. But I considered this whole outfit now my brilliant little treasures. They're super comfy.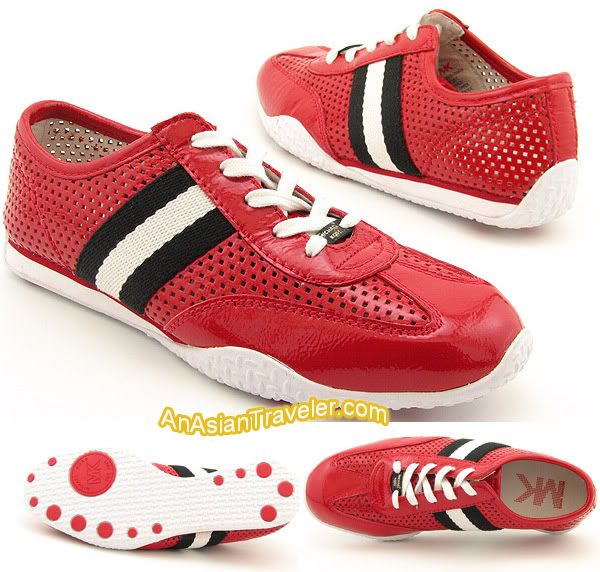 Michael Michael Kors red sneakers
Just like me, HB also shares a huge love for shoes and bags. In fact, his collection is much more superb than mine.
Polo Ralph Lauren Bag / Y-3 Yohji Yamamoto sneakers

We all know that success is through hard work, perseverance, smart decisions and taking chances. But don't you think we also need to attract some GOOD LUCK?! ;)
🌸 If you like this post, please click the links below to SHARE! Thanks.