PART 2: ESCAPE AT MARRIOT HOTEL
T
he Marriott Escape Dining Package includes breakfast and dinner buffet for two. In the evening, we entered
Marriott Cafe
and quite a few people were already there. (I don't like to intrude on people's privacy, so most of the time I normally don't take pictures.)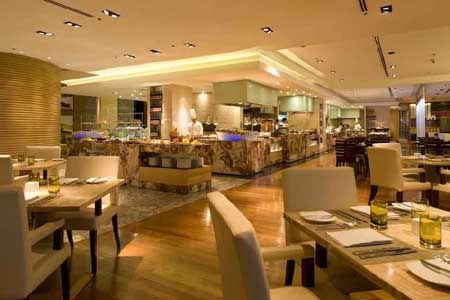 Aside from fruits, these are favorite dishes of mine. They were like heaven on a plate and it filled up quickly the space in my belly.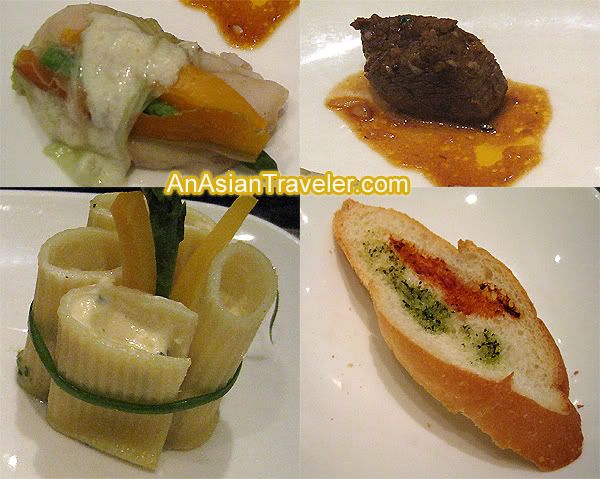 HB loves crabs and it's a must for him. I asked what it was, he said, not spectacular but it was just okay and also the rest of the cooked food.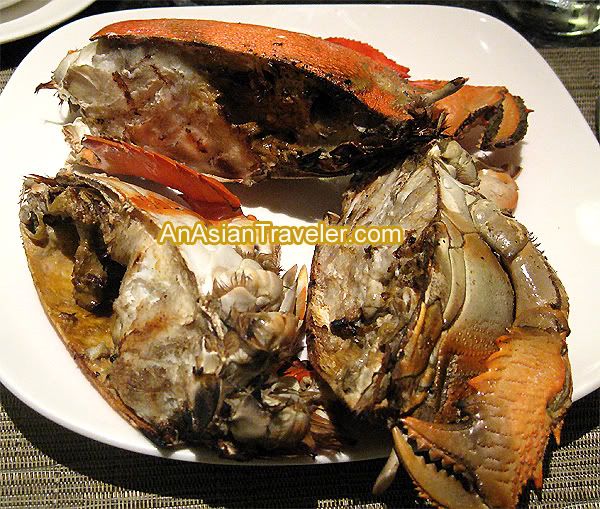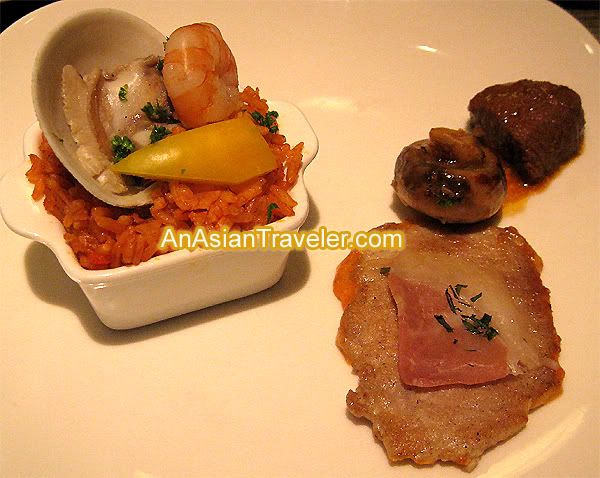 There is few choices on the buffet spread but it has been made as appealing as possible. It has open-theatre kitchens offering local and International favorites. But undeniably, dinner was much better than breakfast.
Made our way to the lobby, happily there were no people around so I got the chance to snap some pictures. (Some photos were taken the next morning.)
Christmas decors were beautiful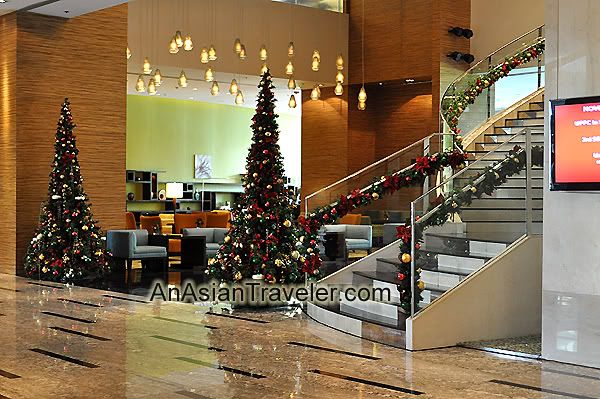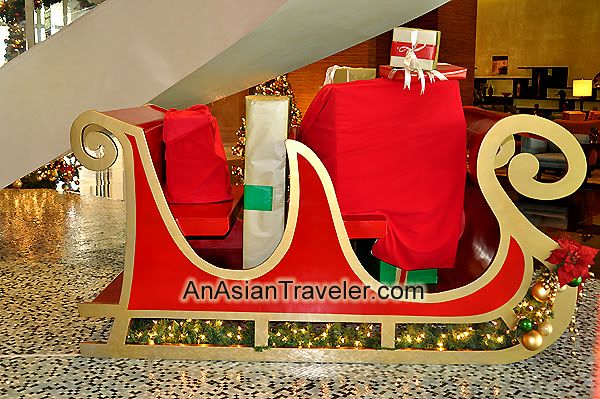 the lobby lounge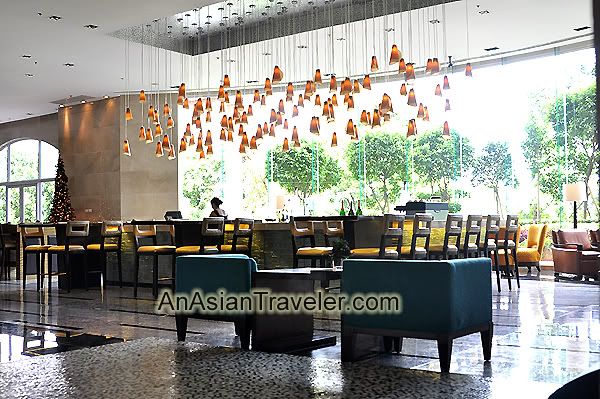 We actually walked further on our way to the
Resort World Manila Casino
which is connected from
Marriot Hotel
. It was my first time to visit a casino. :)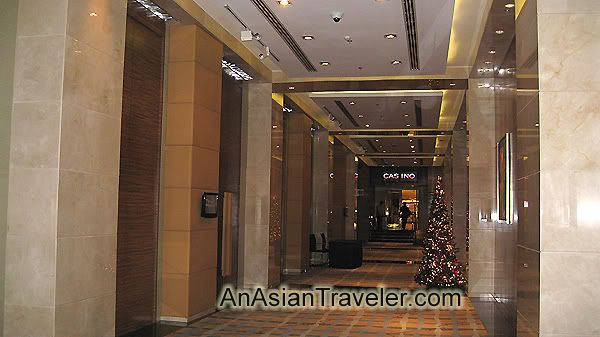 At the scene, a strong whiff of cigarette smoke and a thunderous sound from a live band on a stage in the center of the casino greeted us. A lot of gamblers were ordinary looking people wearing only jeans and shirts, which did take me just a little bit by surprise. I was hoping to see people in ala "James Bond" appearance, you know like the Casino Royale movie where men wear tuxedos. hahaha.... Well, not really in tuxes, but I was expecting them to show up in formal attires.
There are also VIP gaming areas and junket rooms. I think that's for the hard core gamblers and millionaires. It is said, the Resort World Manila Casino offers world-gaming facilities with 300 tables and more than 1,000 slot machines over three floors, which is open 24 hours a day. Unfortunately taking pictures inside the casino and the adjacent Mercado Restaurant are prohibited.
We just walked around a little and then headed to the outdoor swimming pool on the second floor of
Marriot Hotel
. The pool looks divine with dim lights creating a soothing effect to the eye.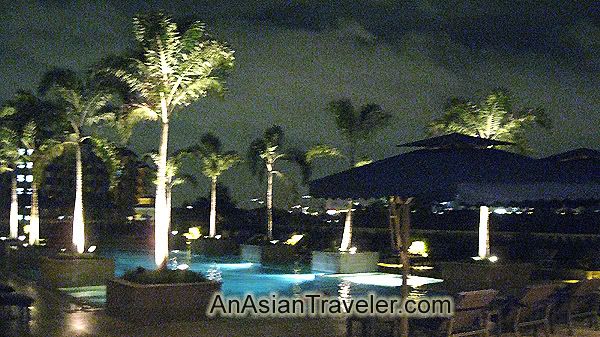 Then we went back to the hotel room.
elevators and hallways on ground floor and top floor

Later at night, since we had nothing to do we decided it would be cool to watch a DVD film titled Discovery Atlas. It explores different continents, countries and cities but we opted to watch "Japan" as it always delights and fascinates us.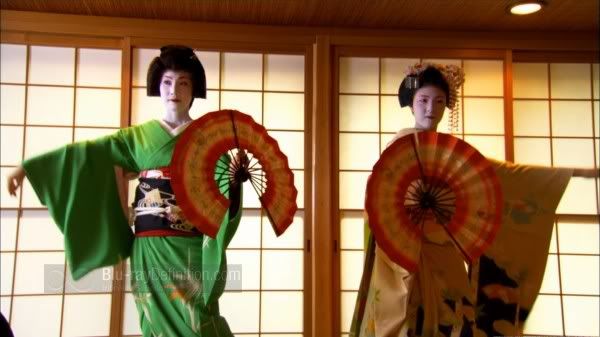 The episodes follow the lives of a geisha in training, a tuna fisherman, a group of Ama divers (I'm familiar with these female diver groups as I always see them in Korean dramas, very similar), two trend setting schoolgirls, a family competing in robotics fighting, and a tattoo artist. You better get hold a DVD copy of this great film. It is pretty entertaining.
We also enjoyed a late night cup of coffee from Seattle's Best, which is only a walking distance from the hotel.
Overall, the five-star Marriot Hotel Manila is adorable and the staff is very courteous and will greet you always with a smile. And I like that.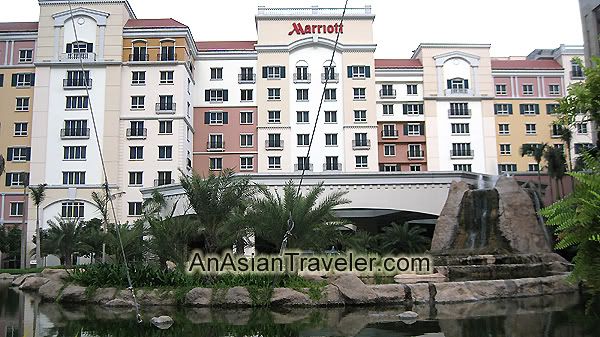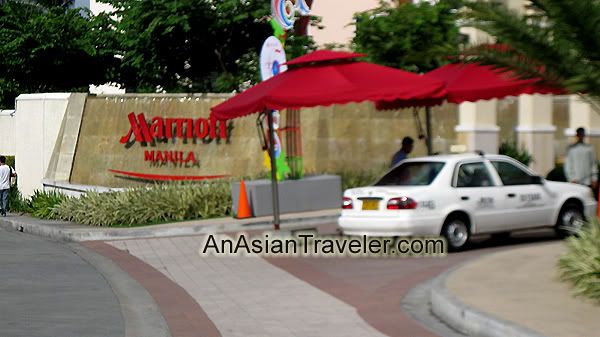 The hotel is set in the entertainment complex of Resorts World Manila, situated just opposite the Ninoy Aquino International Airport Terminal 3. Worth considering for an overnight stay if you're planning to watch some world class entertaining shows (concerts, circus, musicals and exclusive productions), or play in the casino.
Address:


Marriot Hotel Manila No. 10 Newport Boulevard,
Newport City Complex, Pasay City, Manila
Related Post:
Part 1: Escape at Marriot Hotel Manila
🌸 If you like this post, please click the links below to SHARE! Thanks.