NEPHEW'S B-DAY CELEBRATION
H
EY THERE GUYS! Sorry for my long absence. Well, HB and I have been a bit occupied for the past few months with a small project that's still ongoing and so writing a post on my blog has definitely not been on the top of my priority list, plus I was just really lazy. Period. :) I can fully reveal all the details regarding this project once it is finished. Stay tuned for that! ;)
A week ago, HB and I met-up with my family to celebrate my nephew's advance birthday celebration in my fourth ate's house. At last, I had a mini break after long weeks filled with idleness. hehehe..
It's been awhile since we had a family get-together so it was a perfect break in the daily routine.
When you come from a big family, potluck is the only way to go. The
whole LECHON from Tacloban
, which was provided by my third ate (elder sister) and her family arrived a little later as they had to pick it up at the airport. So we ate lunch past 1pm already.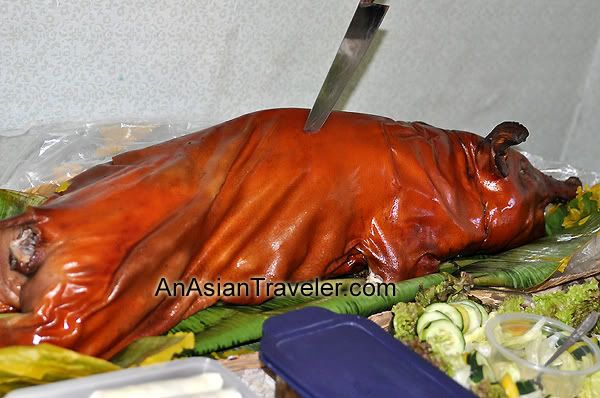 For those who don't know,
Lechon
is a whole roasted pig. Though somewhat expensive, this very labor-intensive treat (requiring hours of preparation) serves as the highlight of the table. In the Philippines, it is a must-have in major celebrations. As for me, I like the lechon from Tacloban and Cebu. They have quite different flavor but both are super delicious that you don't need to have a dipping sauce or sarsa.
Then everyone settled in to try and catch up with what's happening in our busy lives.
We all munched on some Lanzones, fresh lumpia and menudo that my second ate and her family brought. We're so lucky to be blessed with
tasty lanzones
every year during harvest time! Fortunately, they have a lanzones farm in Laguna. Thanks for spoiling us! Hope you won't get tired of it. hehe
HB and I sponsored two large boxes of assorted mini pastries, buko & macaroni salads and a black velvet birthday cake, all from Conti's Pastry Shop and Restaurant.
I saw my kuya (elder brother) carrying a bucket of KFC fried chicken.
Here are also some of the prepared foods.
I had a spoonful of many things, but not all. I wasn't really starving.
Oh, how time flies! My nephews and nieces are growing too fast! My nephews are already teenagers. I want to call them my Kuyas since they're big already and much taller than me, I think. And my nieces are getting prettier. ;)
But not everyone was there. Anyway, we had a good time. I love family time as long as there's no one GRUMPY! hahaha...
Note: For those who are interested to know, I have six elder sisters and one elder brother. I'm the youngest. Just saying. ;)

🌸 If you like this post, please click the links below to SHARE! Thanks.