ROYCE CHOCOLATE
I
first got a taste of
Royce chocolate
a few years back from a friend of HB. It was love at first bite.

Nama Chocolates are neatly wrapped in an insulated packaging with some ice packs

A few months back I was craving for it. So, to satiate my sweet tooth, I requested HB to buy some at Greenbelt 5.
Here are some of the Royce chocolates I tried.
My personal favorite is the
Royce Nama Bitter
(Php 580.00)
♥♥
♥
. The flavor is best quality semi-sweet and not very bitter. It's a fine, delicate combination of selected chocolate and fresh cream with a hint of prestige liqueurs. Plus it literally melts in your mouth. Uh-mm... savoring each bite. :)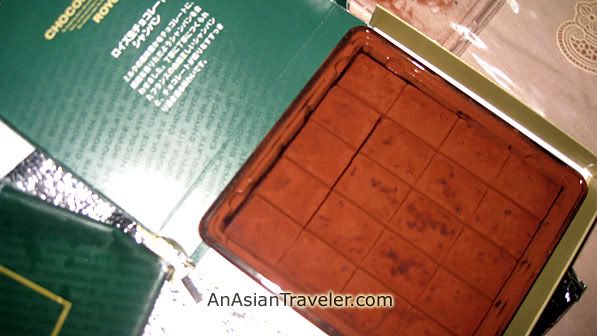 They have five kinds of Nama chocolate - Au Lait, White, Champagne, Bitter and Mild Cacao.
On a very important note, Dark or Bittersweet chocolate has a great source of antioxidants. Just consume it in moderation of course. ;)
I feel in love with
Orange Petit Truffle chocolate (Php 450.00)
♥♥
♥
as well. It's a chocolate with orange liqueur and bitter orange peel delicately intertwined and powdered with cocoa. It tastes really good!
Macadamia Chocolate (Php 690.00)
: It's an aromatic macadamia nuts wrapped in chocolate and topped with cocoa powder.
Chocolate Wafers

(

Php 540.00

): Crunchy chocolate wafers with hazelnut cream and premium chocolate coating
.
Royce Chocolate has been a favorite treat or as "pasalubong" (present) of most Filipino travelers for years. However, there's no need for a trip to Singapore, Hong Kong or Japan to get a fix of this chocolate. Royce' is already available in Manila.
Royce' Branches:
Royce Power Plant
Level 3, Power Plant Mall
Rockwell Center

Royce Greenbelt 5
Level, Greenbelt 5
Greenbelt Complex

Royce Trinoma
Level 3, Trinoma


🌸 If you like this post, please click the links below to SHARE! Thanks.