HONG KONG SHOPPING HAULS
A
nother better way to do in Hong Kong is to shop. So, HB and I decided to hit the road and see what kind of stuffs we could find. Shopping at Nathan Road may seem a daunting task since it is a very long boulevard cluttered with so many shops and teemed with people.
Peace Monument: we spotted this hand sculpture (near the entrance to Kowloon Park) while walking along the sidewalk
We popped into the
Giordano store
but somewhat doubtful whether I could get something. I spent some time rummaging piles of folded and hanging shirts until I found what I really liked. I actually got a
Cotton Wide Collar Bunched Sleeves Tee in gray (HK$90)
and
Camis
in three different colors black, white and blue
(3 pcs. for HK$90)
.
Giordano Polyester Puff cobalt tote bag (HK$150)
.
♥♥
♥
There were a total of 4 bold hues on display, consisting of yellow, cobalt blue, turf and classic black. The bag design is really simple yet soft, roomy and extremely LIGHTWEIGHT. (It is light as spongy marshmallows, I tell you).
the orange one is the Polyester Multi-Color Portable Shoulder Bag
,
which is much bigger than Puff Tote Bag
It's been a decade since I've done shopping at Giordano in Manila. And I never expected I would buy something in Hong Kong. It's probably because Giordano HK offers better style and better choices of popular casual wear compared to stores in Manila. Hopefully, Giordano Philippines would come up with new marketing ideas to capture shoppers like HK does.
Then we decided to walk the nearest
Bossini store
. HB got some casual polo shirts.
Then we shopped at Baleno. HB also particularly liked the Giordano rolling duffel in black. Anyway, here are our loots for that day! :)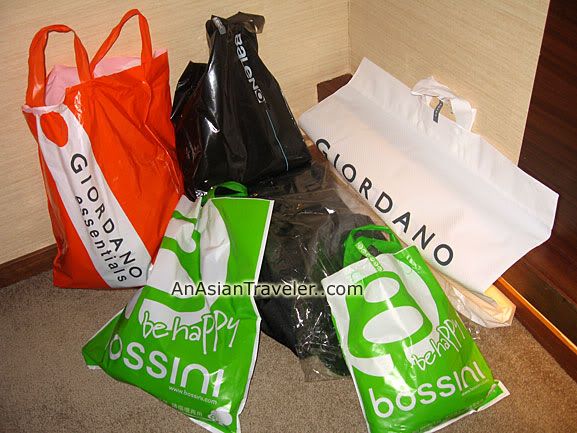 I was lazy to take pictures of what's inside the shopping bags
We just wandered the street all morning, looking at the shop windows until I saw this cute black tote bag on display at
AGNES B
shop. Agnes B is a French fashion brand, very popular in Hong Kong and Tokyo.
We went into the store to check it out. The size wasn't exactly what I expected. It was a bit small for my liking. And it appears that the tag price says
HK$1,980
. HB was asking me if I liked it. But I decided to put the bag where it belongs - in the display shelf rack.
After lunch, HB took a trip to K11 Mall at TsimSha Tsui. He had a last minute shopping. He bought a pair of
Y-3 Sprint sneakers (HK$1,890) at D-MOP
, and
a Y-3 messenger bag at Y-3 store
. It cost around HK$2,000 but he bought it 50% off. I was green with envy.
*boohoo*
Y-3 kid messenger bag

A local artist work of art exhibited on the ground floor of K11.
No doubt, K11 is claimed to be the world's first art mall.
Although I do regret not going with HB but my luck seemed to be pretty powerful! On our way to airport departure hall of terminal 2, we stumbled upon a nice
Lacoste shop
.
I wasn't even looking the immaculately white
Lacoste bag
until HB pointed it out. I've seen it through online store but it was out of stock. Whoa! I'm even more smitten seeing the actual bag. :)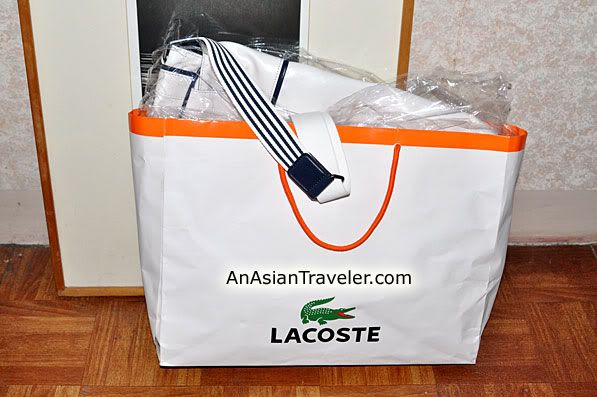 We finally purchased it on the spot (HK$1,010). I felt every ounce of me screaming in sheer delight. Yayness!!!
♥♥
♥
:))
For a last minute souvenir, we had a quick look around at Relay Shop. Bought these cute
Hong Kong refrigerator magnets for HK$35 each
.
♥♥
♥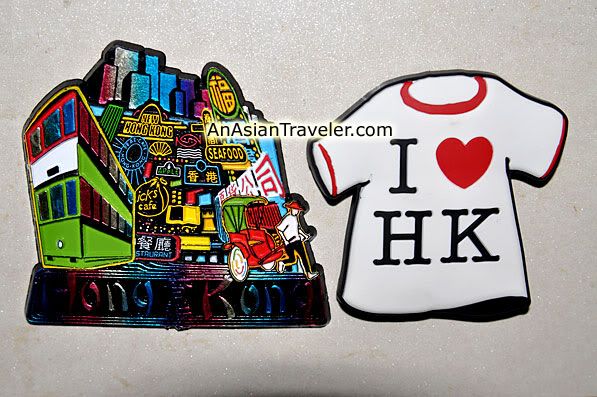 Relay store features a range of English and Chinese Books, English magazines, gifts and unique assortment of souvenirs.
And soon it was time to catch our flight back to Manila.
🌸 If you like this post, please click the links below to SHARE! Thanks.