HOWARD JOHNSON PLAZA Part 1
O
ur second stay was at the
Howard Johnson Plaza
, a distinctly elegant 27-story hotel ideally located right in the heart of the financial district, and just steps away from Shanghai's busiest shopping and entertainment center - Nanjing Lu or also known as Nanjing Road.
Howard Johnson Huahai
. We were charmed to walk inside the hotel lobby and be greeted by a giant Christmas tree with ornamental glimmering gold balls, ribbons, angels and velvety red poinsettia serving as accents.
He opened the door and voila! - We entered into a beautifully adorned spacious suite. We were so pleased we had been upgraded for FREE from
Superior (around Php5,000+ / US$107+) to an Executive Suite with a living room
on the 22nd floor. The separate living room comes equipped with LCD TV , a full size red sofa set, and a dining area for up to four people.
*woohoo*
It has cozy furnishings including a queen-size bed with plush bedding.





One of the top draws is its delightful big glass windows overlooking the city and the hustle and bustle of Nanjing Road Pedestrian Street.
ENJOY THE VIDEO!



Since my severe cold didn't seem to be going away, I wore my pajamas all day lying in bed drifting in and out of sleep, and web surfing from time to time. While HB spent most of his time at the nearest bookstore.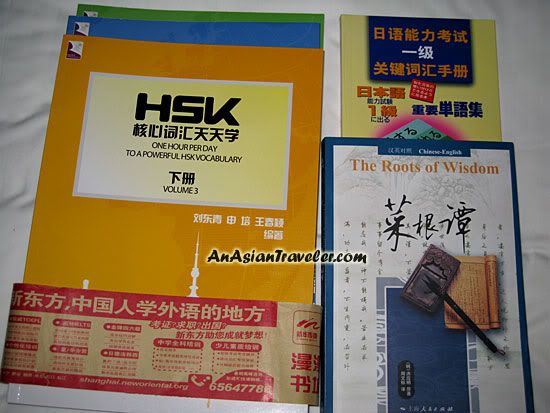 Speaking of Internet, I don't know why popular networking services like Twitter and Facebook are inaccessible in Shanghai, and even Blogspot blog / Blogger (the publishing tool from Google) is blocked as well. It started to drive me nuts as I wasn't able to open my own blog site. *
sigh
*
🌸 If you like this post, please click the links below to SHARE! Thanks.