CRUCIFIED CHRIST AND MAP OF LEYTE PILGRIM MONUMENT
W
e climbed up a row of stone steps with wooden handrails on both sides to see the
Crucified Christ and the Map of Leyte
Pilgrim Monument
.
When we reached to the top, we saw the sculpted image of a crucified Christ seen through the map of Leyte. There is a fountain with wishing pond adorned with floating candles and lamp posts.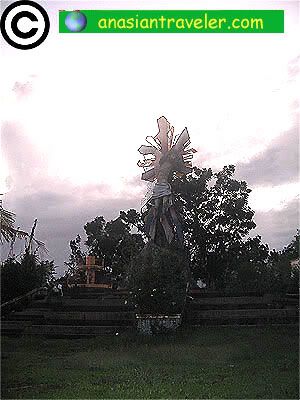 the stone tablet below the sculpture
On the tablet inscribed is ...
"In 1521, Magellan discovered the Philippines, and held the first mass in Limasawa Island, in 1945 , MacArthur made true to his promise through his words "I shall return". For him to save the country from invaders and set foot on the shore of Palo, Leyte.



Leyte is indeed blessed for being the gateway to Christianity and the liberation of the Philippines. The Lord Jesus must have planned it the people is in search for paradise not knowing that they are standing on a blessed Island, the sculpted image of Christ."



Governor Remedios L. Petilla
Province of Leyte






THE IMAGE OF THE CRUCIFIED CHRIST

"Upon seeing the map of Leyte, I had visualized an image of a crucified man. The Map of Leyte is indeed the crucified Christ."



Nemiranda
Artist
The
Crucified Christ and the Map of Leyte
Pilgrim Monument
is located at Kanhuraw Hill, Tacloban City, Philippines.



🌸 If you like this post, please click the links below to SHARE! Thanks.