SINGAPORE ZOO
I
n the afternoon we headed to
Singapore Zoo
, took the MRT and alighted at Ang Mo Kio Station, and then we hopped on the Bus service 138 (just across the MRT station) bound directly to Singapore Zoo.
Upon arrival, HB bought our
Zoo Park Hoppers Ticket 2-in-1
(Zoo and Night Safari Admission)
for
S$40.00 per person
including the 5% GST at the Ticket station. Inside the rain forest courtyard, the staff greeted us and took some photos. He told us it would be ready in an hour at the Digi Photo.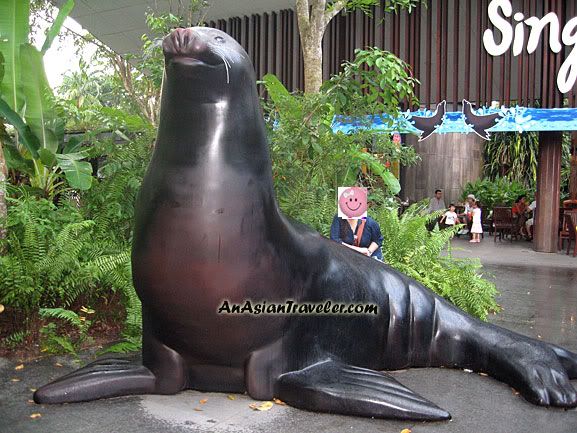 Soon we started walking hurriedly to the "
Elephant of Asia
" for the afternoon show. It was excruciatingly hot while walking along the vast grounds of the zoo. We passed by the
Babirusa
,
a group of Bengal White Tigers
and
the Hamadryas Baboons
at the Great Rift Valley of Ethiopia section.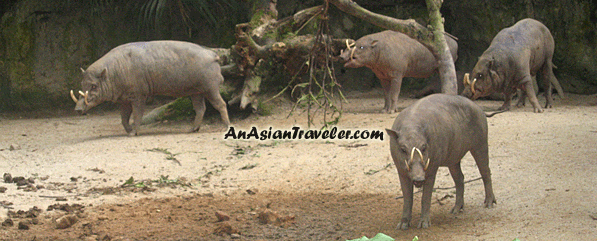 You can watch here a troop of over 50 Hamadryas baboons interact and be amused by their strikingly human-like behaviors and expressions.
T
he map made it easy for us to find the way to the
Elephant of Asia
. I was already tired and perspiring heavily when we got there. Phew!
The area is b
uilt along the tranquil waters of the Seletar Reservoir, the 7800-square-metre exhibit comprise viewing lofts, rustic thatched huts and elevated boardwalks.
The sad part, the exhibit area was already full.
The show started and was held in an open field. The elephants entertained the audience with their variety of skills and several balancing acts.

What I enjoyed most was the latter part of the show when the elephants sprayed water onto guests seated in the front rows. They were caught off guard. hahaha! Even though some part of the show was a bit sluggish, it was still a nice exhibition capturing the unique bond between mahouts and elephats.
T
hen we went to the
Primate Kingdom
, which consists of six large and two small moated islands and houses several species of monkeys including the lion-tailed macaques, black and white colobus monkeys, brown capuchin and spider monkey.

(One of the small moated island)

While walking around the park, we chanced upon an adorable and mischievous orangutan at the
Island Free Ranging Orang Utans
. He was brachiating through thick branches and making funny faces on purpose. This ape has an undeniable magnetic personality and mesmeric appeal as he amuses everyone including us. What a sight! Now I've got a crush again.
haha
The zoo also offers a package called the "
Breakfast with an Orangutan
" that allow visitors to meet and interact closely with the orangutans in the zoo, including the famous primate Ah Meng who is an icon of the Singapore tourism industry.
S
hortly we came face to face with these little
penguins
in their special glass-fronted enclosures swimming gracefully underwater.
Soon after, we passed by the
Elephant Rides
section. Guests can ride and have your souvenir photo taken.
At last, we decided to hop on for a free tram ride as we were already tired from walking.
We drove around most parts of the zoo and we stopped at the
Polar Bears
section where we saw Sheba and Inuka (
the first polar bear born in the tropics)
. They live in a large air-conditioned den, 3.5-metre deep pool, which allows them to cool off. They have a separate cubbing den for rearing cubs. The place was too crowded but we managed to get to the front side. But sad to say my photos were so blurred and crappy because of the glass enclosure.
We walked a bit further and then we caught sight of the "
Asian Small-clawed Otter
", which is the smallest of the 16 otter species found throughout the world. I was trying to capture them but they were fast and hide immediately.
Then we spotted these
exotic and colorful tropical birds
.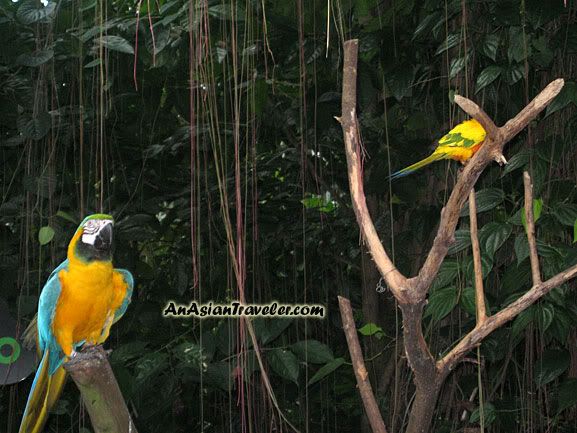 N
ear the entrance is a huge
Safari Zoo Shop
with great assortment of merchandise and interesting souvenirs.
Then we stopped for a drink break at
Ben and Jerry's
. We stayed there for a while before the closing time (6:00 pm) then we proceeded to Night Safari.
There are also other varieties of restaurants to go such as
Pizzafari

(
a pizza outlet that offers Italian-style thin crusted pizzas),
KFC, Forest Fare, Jungle Flavours, Jungle Tandoor
and
Cheers
(a convenience store). Refreshment prices vary from reasonable to high.
Overall,
Singapore Zoo
is nicely laid out, divided into different sections, which will keep you busy for the whole afternoon. The layout of the zoo is easy to follow but expect to walk quite a bit. Some of the sections are quite far-flung from one another. You can ride around on a tram but you have to go to one of their stopover sections where visitors line up. If you want to spare yourself walking under the hot tropical sun, you may opt for guided tours. Animals shows, as well as token feedings coupled with live commentaries by keepers are also the daily staple in the Singapore Zoo.
Singapore Zoo is open from 8:30am to 6:00pm daily.
Address:
Singapore Zoo
80 Mandalai, Lake Road
Singapore
Tel (65) 6269 3411
🌸 If you like this post, please click the links below to SHARE! Thanks.