BOHOL Part III: Chocolate Hills
T
he third stop was
Chocolate Hills in Carmen,
55 kilometers from Tagbilaran City. Carmen is an interior town located near the center of the island. Its former name was Imbaya after a local brook. When it was separated from Bilar as an independent municipality, it was renamed to Carmen supposedly in honor of a woman who was said to be popular figure in the community. The hills are scattered throughout the municipalities of Carmen, Batuan and Sagbayan.
Sagbayan Peak
, is one of Bohol's newest tourism boom. It has a five-hectare mountaintop resort and recreation center offer viewing for nature lovers. Its viewing deck offers a 360-degree perspective of the Chocolate Hills plus the blue sea that separates Bohol and Cebu. But sad to say, we'd never been there.
chocolate hills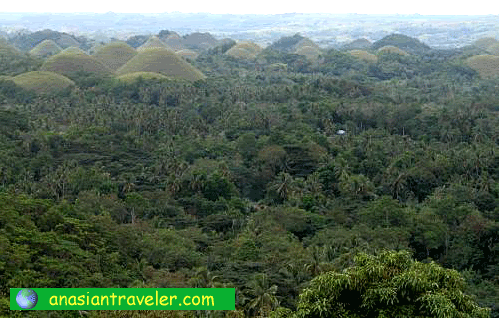 The Chocolate Hills are probably Bohol's famous tourist attraction. They look like giant molehills, or as some say women's breasts. These hills are not a man-made artifact. The chocolate hills consist of not less than 1,268 hills (some claim this to be the exact number). They are very uniform in shape and mostly between 30 and 50 metres high. They are covered with grass, which at the end of the dry season, turns to chocolate brown. From this color, the hills derive their name. At other times, the hills are green, and the association may be a bit difficult to make.


Climbing the 214 steps of the view deck to the top was a little exhausting and tiring. But worth it- as a rewarding exercise. I even heard an elderly foreigner uttered; "
Whew! This is only for the young ones.
"
In 1988, the government of the Philippines declared the Chocolate Hills a National Geological Monument and is also known as one of the Eight Wonders of the World.

However, up to this day, even geologists have not reached consensus on how they were formed. The most commonly accept theory is that they are weathered formations of a kind marine limestone on top of an impermeable layer of clay. On top of the view deck, there is a bronze plaque that explains this.
HOW TO GET THERE:
Plenty of tourist guides and tour operators will be happy to bring you to the Chocolate Hills, either as a separate trip or as part of a day tour. However, if you want to go there on your own, from Tagbilaran, you'll have to go to the integrated bus terminal in Dao and catch a bus going to Carmen. Make sure it is the first one to leave, and ask the driver to drop you off at the Chocolate Hills complex, about 4 kilometers before the town of Carmen. From there, you need another 10-minute walk.
To get back to Tagbilaran, you will have to walk back to the main road and wait for a bus to pass by. The last bus from Carmen to Tagbilaran leaves at four pm. Another alternative is the services of the motorcyclists who often wait here for tourist. It's a motorbike taxi or in local dialect it's called "habal-habal".



SHARE: